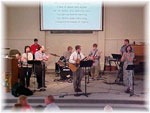 "God did this so that men would seek him and perhaps reach out for him and find him, though He is not far from each one of us."  Acts 17:27
Rolling Fields offers upbeat, celebrative worship in regards to music. Our worship team leads us with vocals and instruments (guitar, keyboard, drums, etc) to sing mostly contemporary music like that of Chris Tomlin and Third Day. We also sing one classic hymn in each service.
The messages at Rolling Fields are relevant, encouraging, and Bible-based. Pastor Andy is passionate about communicating the unchanging message of the Bible in a way that is meaningful and challenging.
In our worship services, every aspect of the service, whether singing, prayer, the Pastor's message, or the offering, are done with worship in mind.

What To Expect At RF!
Meeting Times
We worship together Sunday at 10:45am. Our church family comes from all over Southern Indiana & the Greater Louisville area. Rolling Fields offers a full nursery, children's activities, youth & adult small groups.